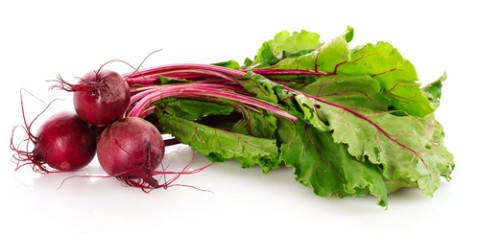 A great way to cleanse the liver is to eat steamed beets and beet greens for three days in a row. It's okay to use oil or ghee and some light seasoning with it and to prepare it by steaming, baking or sauteing. Don't forget to drink lots of water and yogi tea while you are doing this cleanse.
Here is a great recipe to use every part of your fresh beets and get two delicious side dishes.
Ingredients: 
1 bunch of beets with greens
¼ cup coconut oil
2 cloves garlic, minced
2 Tbsp. chopped onions
1 Tbsp. red wine vinegar
Sea salt and pepper to taste
Procedures:
Preheat the oven to 350 degrees Fahrenheit.
Wash beets thoroughly, leaving skins on. (It's easier to peel the beets once they've been roasted.) Remove the greens and rinse, removing any large stems and set aside.
Place beets in a small baking dish or roasting pan, toss with 2 tablespoons of coconut oil, cover and bake for 45 to 60 minutes or until tender. Serve with red wine vinegar or butter and salt and pepper.
For the greens: Heat the remaining coconut oil in a skillet over medium-low heat. Add garlic and onion and cook for one minute. Tear the beet greens into 2 to 3-inch pieces, and add to skillet, stirring until wilted and tender. Season with salt and pepper.