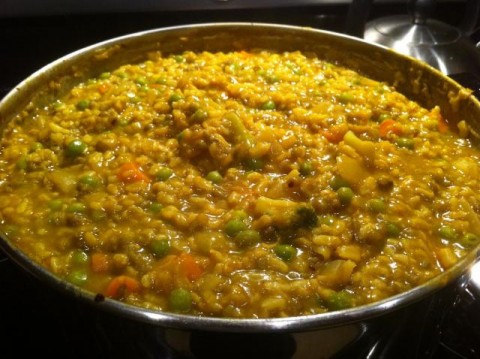 A perfectly balanced protein dish, easy to digest and very satisfying. Good any time of year but makes a particularly good winter diet.
Ingredients:
4 ½ cups water
½ cup whole mung beans
½ cup basmati rice
1 onion, chopped
3 cloves garlic, minced
¼ cup finely minced ginger root
3 cups chopped vegetables
2 tablespoons ghee or oil
¾ tablespoon turmeric
¼ teaspoon dried crushed red chilés
¼ teaspoon ground black pepper
½ teaspoon coriander
½ teaspoon cumin
½ teaspoon salt
Cooking Instructions:
Rinse the mung beans and rice. Add the mung beans to boiling water and cook until they begin to split. Add the rice and cook another 15 minutes, stirring occasionally. Now add the vegetables.
Heat the ghee/oil in a sauté pan and add the onions, garlic, and ginger and sauté until clear. Add the spices and cook 5 more minutes, stirring constantly. Add a little water if necessary. Add this to the cooked rice and beans. You can substitute vegetables as you like, as well as use Bragg Liquid Aminos, tamari, or soy sauce instead of salt. Tastes great with yogurt!