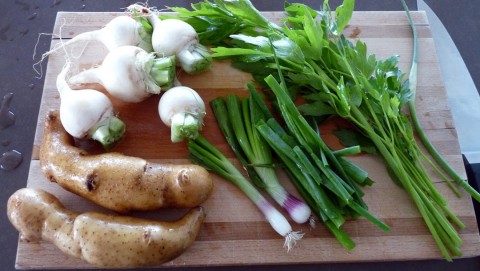 A spicy mixture for rejuvenation of spirit and body for a strong, healthy foundation in life.
Potent Potatoes
4 russet baking potatoes
½ cup oil
3 onions, chopped
¼ cup ginger, minced
1 bulb garlic, minced
1 tsp. black pepper
1½ tsp. turmeric
1 tsp. crushed red chilies or cayenne
8 whole cloves
Seeds of 3 cardamom pods
½ tsp. ground cinnamon
1/3 cup soy sauce or tamari or Braggs
½ pint cottage cheese
4 slices cheese, cut in half
1 bell pepper, finely diced
½ cup pineapple, chopped and drained
Bake the potatoes for about 1 hour, until they're nice and soft on the inside and crispy on the outside. Meanwhile, heat the oil in a skillet and add the onions and ginger. Sauté until the onions are well done, then add the garlic and spices. If the spices are sticking to the pan, add more oil and/or lower the heat. Cook until browned. Add the soy sauce. Cut the baked potatoes in half lengthwise. Scoop out the insides and combine with the onion mixture. Stir in the cottage cheese. Refill the potato shells with spice and cottage cheese mixture, forming mounds over the top. Cover with slices of cheese and broil until melted and golden. Garnish with bell peppers and pineapple.
Serves 4-8.
From Foods for Health and Healing based on the teachings of Yogi Bhajan, PhD